Monday 24th June 2013
Sybil is a Shipman28 class sailing cruiser, which we bought in 2012 to undertake a Round Ireland cruise. Having proven herself a seaworthy craft, we planned to take her farther north from her base in Dun Laoghaire this year. Our cruise planning was extensive, and revolved around a "Three Peaks Challenge" which would sail us to climb a peak in Ireland, Northern Ireland, Isle of Man, England and end up in Scotland. Our early season practice run from Dun Laoghaire to climb Howth Head tellingly demonstrated our inability to bypass a good clubhouse bar in fine sunny weather. Our crew dwindled so that eventually we were just two, with Charles and Paul left to bring Sybil northward. We departed Dun Laoghaire 1200hrs in sunny light northerly winds and motored most of the way to arrive at Port St Mary 0600hrs as the sun rose. An Isle of Man arrival at sunrise is always a beauty, and we admired it so much as to pass Port St Mary and have to retrace our steps to enter the harbour.
Tuesday 25th June 2013
Paul has caught up on sleep overnight and recovered from his Three Peaks Challenge achievement last weekend, when he conquered all three peaks by car and foot. We pick up the public mooring and head ashore at 1300hrs for an attack on the 2036ft Snaefell Mountain. But our navigation fails us and, despite copious bus and railway timetables and ordnance survey maps, we divert off track when we arrive at Laxey. The thrill of the scenic steam train journey from Douglas was enough to take our mind off serious navigation. Still, the sun shines and it's a warm sunny run to the top, dry underfoot although soggy in some places, with warmth enough to get us back down along the railway line. A stubborn lone sheep leads us over the sleepers, refusing to divert into the grassy hills, running ahead of us into the town of Laxey. For starving humans, there is alas no food in Laxey, so we retrace our steps by bus into Douglas. There, our bus timetables battle resumes as locals advise that the drivers will not adhere to the recently printed schedules we got in the tourist office. The bus returns us to Port St Mary at 2100hrs, and from our seats we see our dinghy is now 20ft above the receded tide and will be difficult to retrieve. Fortunately the rocky shore has punctured our inflatable only slightly, although the sound of escaping air is clear, and paddling quickly is required to get us onboard before we get our feet wet. The query "can you get sucked under if an inflatable deflates around you" remains unanswered.
Wednesday 26th June 2013
An eager departure at 1000hrs leaves us without showers (despite an early morning swim) and fuel top up as we battle a NW force 4 to clear Balhane Bank at the north of the island. Never having sailed these waters, I doubted there would be sufficient channel between the sand bank and the island, but we made it through with Paul's astute navigation skills as the seas broke with white crests on the bank right beside us. Increasing wind and fighting tides slowed us and by 2100hrs we are seeking shelter in East Loch Tarbert under Mull of Galloway. But it's the wrong Tarbert (we learn later that there are many Tarberts in Scotland, the word means Isthmus) and there is no shelter so we raise the anchor again and head to sea around the Mull, to get clear of rocky shores and await the turn of tide. It's a bumpy and dark night, with shipping to contend with. One comes so close that he trains his searchlights on us, lighting up our mainsail.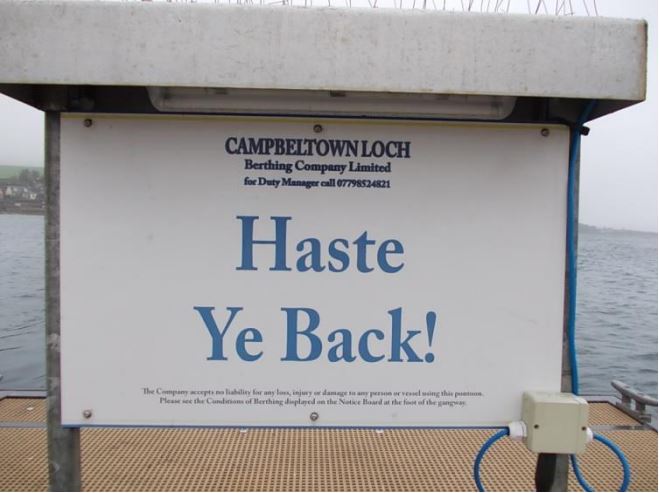 Thursday 27th June 2013
0400hrs we are still abeam of the poorly lit and sparsely populated Galloway, and when Portpatrick is abeam by 1200hrs and 20 miles later we are still fighting the northerly wind but have a tide under us which is Power Surfing us along at 10 knots. Not bad for a Shipman that usually travels at 4 knots! By 1400hrs we are at last in the shelter of Kintyre and moored up in Campbelltown, where the £15stg charge provides us with safe jetty mooring but no showers. So it's off to the swimming pool nearby, after stopping in to the RNLI shop on the pier to reward the volunteers who are bravely manning their stand despite the pouring rain. Suitably refreshed, we retire to the cafe where a retired lifeboat man tells us the history of this remote peninsula which once had 36 distilleries. A brewery was later established in an attempt to wean the population off the hard stuff. NATO jetties, submarine bases, arsenals hidden underground and false sheep add to the local folklore which helped put the Germans off track during the world wars. And maybe they are still active. Tales of how the lifeboat avoids the tides by trailing the RIB over the mountain for a beach launch dragged out our breakfast into brunch, but we declined a 20 point lifejacket check or boat safety survey and as we feared we weren't quite equipped for safety standards required in these waters.
Friday 28th June 2013
Wary of the strong tides, we depart 1000hrs and round the Mull of Kintyre and power surf northward in calm seas, anchoring at midnight in a sheltered cove called Lowlandmans Bay. With shelter on all sides, it's difficult to imagine there is not a quay or a jetty here, and it's not until the following morning that we see the old schoolhouse ashore which indicates there must have been a settlement here in days gone by. The holding is good and we dine and wine as Paul strums his guitar, embarrassed to disturb the silence of such a remote location.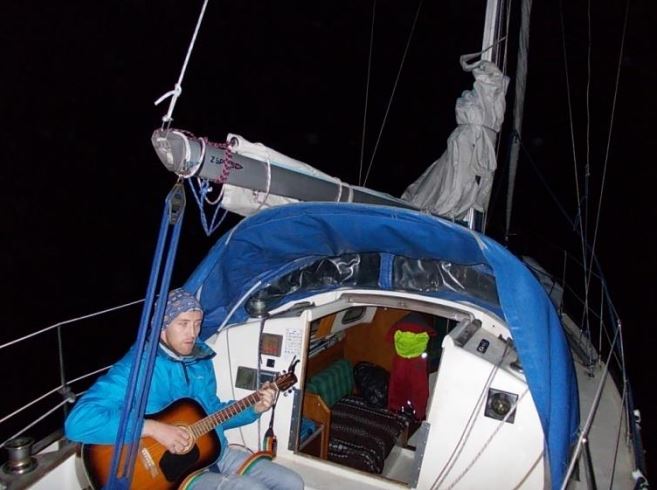 Saturday 29th June 2013
We are pressed by airline schedules so a morning swim is followed by a 0900 departure to keep on track, motoring in calm up Jura sound where pockets of habitation are dotted along a generally remote and uninhabited coastline. By 1400hrs we are abeam of Crinan and wanting to get a glimpse of canals, we anchor and go for a run ashore. This gives us a 4 mile stretch of sightseeing inland along this narrow and short canal, but drizzle descends as we return to the sea lock for refreshments to admire the boating activity there. You need a minimum crew of 4 to go through the 9 mile Crinan Canal, as the 15 locks are manually operated by the boat crews. There are no jetties to moor onto outside the sea lock at Crinan, so that the first basin is full of yachts. Crinan is very pretty, but there is nothing in the village, except a hotel, and a good boatyard and well stocked chandlery. So it' a good port to stock up on local charts and do repairs on this otherwise poorly serviced coast. By 1830hrs we are underway again and arrive at Oban 2200hrs, where we search the shoreline for a marina to ease our planned crew changeover. But alas the marina is actually on nearby Kerrera Island, with a ferry link to the mainland. Food is finished by the time we tie up, and the barman went to the mainland on the last ferry, so we retire after we have consumed what's on the table. Our drinking partners are crew from a Sigma 33 yacht, also from Dunlaoghaire, which is also heading to the Caledonian Canal. We are not alone. But they plan to transit the canal swiftly rather than cruise slowly, and they will head across the North Sea to cruise the coast of Norway.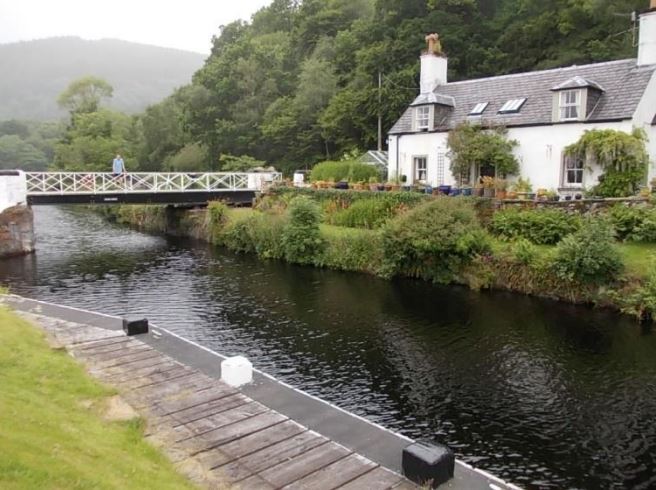 Sunday 30th June 2013
By ferry to the mainland, for breakfast and for crew changes. Paul is heading back by train from Oban to Glasgow for a flight home to Dublin, and Marie is en route from Glasgow. The rain evaporates on Paul's departure and its sunny blue skies to greet Marie. We dine at the Waypoint Bar on Kerrara after a hike around the island perimeter, where roads become tracks, which become simply farmer's muddy fields. Sheep are everywhere, as are the Scottish bulls look with long fur and threatening looking untrimmed horns. Back at the marina, Swedish man Mads Bo Falk with his wife and three children are shoehorned into a 26ft boat, en route south to Ireland. They have sailed from Denmark up the North Sea and through the Caledonian Canal, and give us advice on the navigation. They query where in Ireland they will be able to buy paraffin fuel for their cooker. We swap cruising information and charts of Dublin Bay – which today means simply photographing the chart using your smartphone.
Monday 1st July 2013
The marina man collects £19 per night and will not entertain any reductions when skippers complain of the lack of water for showers. He says it's due to a legal problem of title with the local water well, but plans are afoot to run fresh water supply pipe from the mainland next year to resolve this. By 1100hrs we are underway being pushed northward, following a French yacht who fortunately overtakes us and shows us the correct route. The "preferred route" as the chartplotter would say. The southerly wind stays favourable and the sun shines as we make 7 knots under spinnaker through Loch Linnihe, anchoring for a lunchtime swim in a sheltered bay north of the Corran narrows. Navigating the narrows is complicated by trying to avoid the chain ferry, who crosses swiftly and without making any signals. By 1830hrs we are at Fort William, identified as the entrance to the Caledonian Canal. The southerly wind whipping up a sea at the top of the loch, but there is no marina to moor onto. We learn that the British Waterways canal entrance at Corpach is actually far removed from the town of Fort William, and there is no shelter there either. But we hang off the jetty at Corpach and explore onshore to find dinner. The only diner in this small town is Corpach Hotel, retaining lots of what the guidebooks refer to as an "old world charm". The owner regales us with tales of his long life as the hotel proprietor, when coach loads of tourists came to stay for weeks at a time, and before the car stole his trade away to Fort William.
Tuesday 2nd July 2013
Our campervan crew have landed in Scotland by ferry, but we learn they have a breakdown at a town called Tyndrum and will require major repair work to get on the move. British Waterways staff have been very helpful, despite our crew shortage, arriving early to get us into the calmness of the sea lock and explain the working so the system. We pay our £150 to get our permit and a key for the toilet and shower blocks, and some guide maps. VHF channel 72 is used for communication and the system operates 0800-1800hrs daily, with lock and gate keepers listening on portable radios. We tackle Neptunes staircase of eight locks which raises us 64 feet above sea level. Neptunes Staircase is a big tourist attraction with busloads of camera wielding foreigners arriving continuously, and our every move being recorded. The ascent takes from 1400- 1540hrs. The Harry Potter steam train to Mallaig chugs by and then both the road and the railway line are closed to get the boats through. A Sweedish catamaran travels with us in each lock, with limited English and even less marine experience, as they reject all offers of advice from the lock keepers. We moor at the top of the lock flight at Banavie, and retire for the evening to watch others ascending the locks. I run the towpath 6 miles inland in warm sunshine towards Gairlochy, because the canal bridge midway has been opened and I cannot cross to return with a shorter run.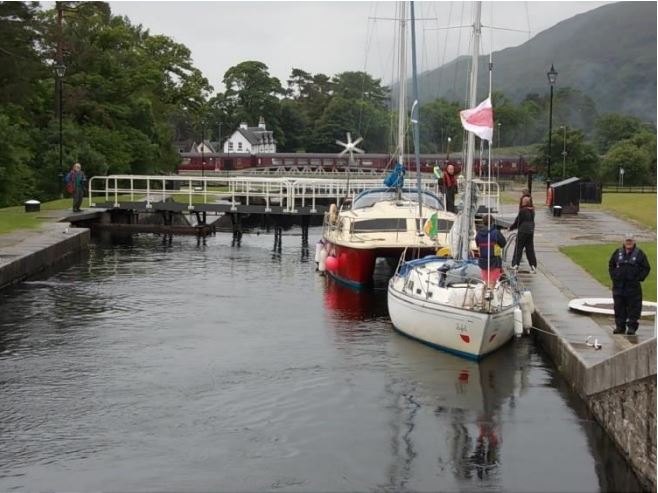 Wednesday 3rd July 2013
An early start again in sunshine, we motor the narrow canal to Gairlochy, from where Loch Lochy opens wide and we hoist the spinnaker to add some colour to the beautiful Scottish scenery. The south westerly wind is pushing us northward, and sailing is permitted on the lochs but obviously frowned upon - if not actually impossible - in the narrow canal stretches.
Thursday 4th July 2013
Another sunny day in Scotland. The A52 road follows our Caledonian Canal route, criss crossing regularly at roadbridges which must be swung opened for us. Laggan road bridge is busy by VHF radio, and appears suddenly around a canal bend, leaving not much time to request an opening. We anchor at the Well of the Seven Heads, a grizzly relic of a murderous past, for a swim and lunch. Our campervan crew arrive at Fort Agustus, which is the busy junction of the canal and Loch Ness. Sailboats, passenger ferries, and powerboats are crammed onto the busy jetties, taking refuge from Loch Ness. We share tales over beers, and lock out into Loch Ness with a renewed enthusiasm to find Monster Nessy. The wind is very strong once clear of the enclosed canal, and the seas are rougher than we expected. Our furling genoa is gone for repair to Owen Sails, so we attempt to fly a luffless genny (with hanks that will not go in the new furling track) but the flapping sail risks the mast coming down. So we abandon this effort and surf the rolling waves under motor through to the famous Urquhart Castle, photographic background for all Nessy adventures. As darkness falls, the waves are very confused, rolling up the lake, with cross seas where wind funnels down the glen, exaggerated by the shallow patches. Being inland, we had not received a shipping forecast. Darkness and unsure pilotage added to the worry – this was beginning to be a mystery lake indeed. So we ran from the storm to search for a mooring in nearby Drumnadochit harbour, which has a paystation charging £9 per overnight mooring. You just stick the ticket on your boat window, like a car. Our campervan crew must taxi back to Fort Agustus (at a cost of £40) for their van, and we manage to negotiate a dinner from the closed restaurants in the Nessy Town where the noisy advertisements still sound even though the tourists have all gone home for the night.
Friday 5th July 2013
The storm has passed, or is it that the wind speed is exaggerated when funnelled up the valley at exactly the right angle? In flat calm we motor back across to Urquhart Castle and attempt to moor at the small jetty, but a kilt wearing groundsman, impeccably dressed with white shirt and black tie, politely asks us to leave space for the 150 tourists due on the tour boat. Money clearly talks, and Nessy tourism is clearly big business. So we anchor off and swim and breakfast in the sunshine. The tour boats arrive continuously with loudspeakers bleating out loud the history of the castle, and the mystery of the monster. In the calm of the sunny day, it is difficult to imagine a monster – but having surfed through the grey rollers last night, I begin to wonder if there might not be some true mystery lurking below these waters. Our campervan crew arrive and we paddle ashore and climb the hill for breakfast in the castle restaurant. Sybil lies photogenically below us between the trees. And then suddenly the photo is blank – Sybil has gone from view. We rush down the bank to find he dragging anchor northward, and jump into the dinghy to paddle like Fred to catch up with her before she grounds. Safely onboard and underway, I cannot help wondering again what mysterious powers lie in this famous loch.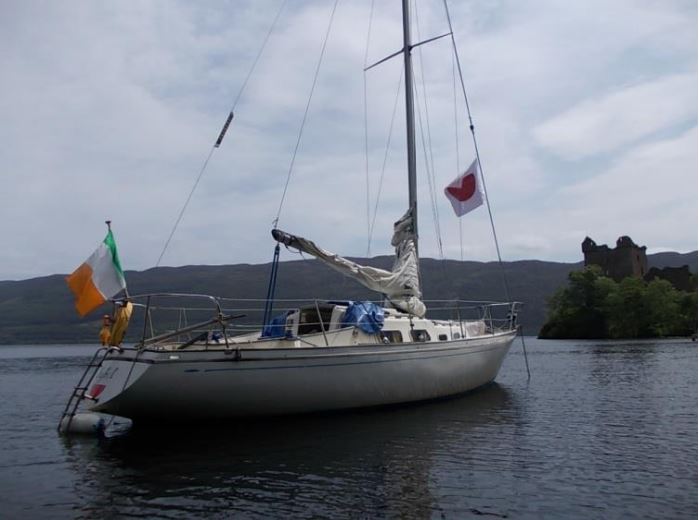 Saturday 6th July 2013
It's a short trip to Dochgarroch, marking the end of Loch Ness. Soon we are in Muirtown, where British Waterways has Seaport marina in the canal basin. It's a tranquil mooring before you exit to the North Sea, and a place where British Waterways encourages liveaboard residents to maintain life in the waterway all year round. There's a strange mixture of fragile inland waterways motorboats and strong seaworthy yachts, and we avail of the "one night free" plus another at only £8 per night in order to facilitate crew heading off from Inverness.
Sunday 7th July 2013
Sunday is a rest day and the warm sunshine gives way to scorching heat. Our repaired genoa sail arrives back from Owen Sails and we also tackle the repairs to the spreader brackets, greatly assisted by the loan of a cordless drill from our Swedish neighbours. We road trip 10miles in the campervan to Fort George, gateway to the North Sea. An impressive military base, locals confirm that it is still in use as a training ground for troopers who keep them you awake at night with their gunfire, as they train for service in the Middle East.
Monday 8th July 2013
Sunshine and flat calm greet our arrival in the North Sea at 1430hrs, as we cleared the road and railway bridges and the lock keeper (who is also an Irishman, from Achill Island) drops us out of the sea lock. Peter has taken to the sea as Esmonde drives the fan over the mighty Inverness suspension bridge. It would have made a good photo opportunity, if he had been allowed to stop on the bridge and photograph us as we sailed under! From onboard, the fast ebbing tide made it difficult to get the best photos of Sybil sailing under her first suspension bridge, and pushed us northward past the (very) narrows at Fort George. We rounded into Cormarty Firth. Curious about the strange hulk, we tour cautiously around the oil rig which had been towed in and abandoned there. The pilot advises us to steer well clear of rigs, but this one seems without anchor and is sitting on the bottom, so we approach the behemoth cautiously with one eye on the echo sounder. We had been advised that there were few ports on this coast, so that Cromarty harbour looked promising when we spotted its Cromarty Harbour Trust jetty. But the distinctive "No Mooring" warning sign seemed a little unwelcoming. Lack of space and a probable lack of depth also dissuade us from mooring here, apart from taking a temporary berth to enjoy a quick meal and beverage on the sunny shoreline in front of an aging and – despite the sunny summer season – empty hotel. Then its cast off at 2300hrs with a motor out to a mooring which proved very secure and welcoming, as the tide seemed to run at a surprisingly strong speed that would have made anchoring precarious in this otherwise very sheltered water.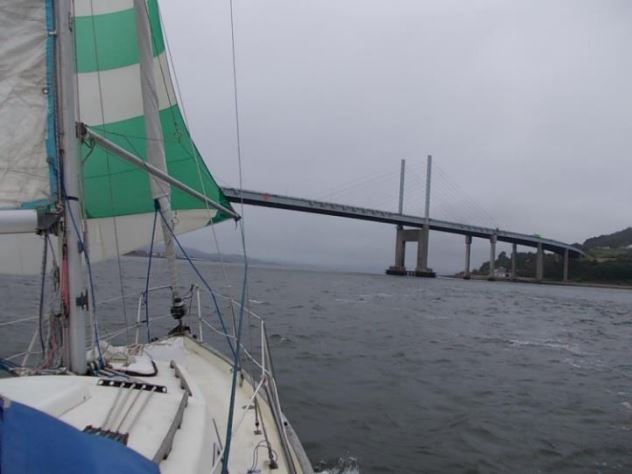 Tuesday 9th July 2013
Morning swim in the strong tide, which involves laying out a grab line from Sybil with a fender at the end to ensure I don't drift off too far. The boarding ladder has proved essential, and I do wonder how you would recover a man overboard without one. Two mammoth tugs have appeared in the bay overnight, and I worry that they came by so close to my bunk without me even hearing. Across the bay at Nigg, the shipyard is reopening with over 200 workers refurbishing oil rigs, which have now reached their end of life date throughout the entire North Sea. It is upon such business, and projected wind energy growth, that Scottish people base their ability to thrive financially as an independent nation. Back ashore, campervans have all lined up on the grassy sea front, and everyone is having breakfast in the hot sunshine. I cast off with Esmonde at 1300hrs to examine more closely the abandoned oil rig, which locals say had been destined for Mexico when oil prices were high, but now seems destined to blot their horizon forever as there seems to be no legal impediment to abandoning oil rigs. Dolphins obliged us and the tour boats by frolicking alongside at Chanonry point, where the narrows funnelled their fish food into one place. But they swim and dive with speed and irregularity that filming them is impossible. Dolphins, it seems, can outwit humans. The dolphins escort us as we turn Sybil westward again, and homeward, our travels to the North Sea completed. At 1400hrs we moor at what we believe is Avoch (pronounced Och) until the club tender arrives to tell us we are actually in Fortrose. Thus having arrived by accident, we cast off and move on to Avoch, which campervanman had said provided a lovely mooring. Unfortunately we ground at half tide some quarter mile off the harbour, which makes me wonder about the boats moored inside it. We retrace our steps to Fortrose and paddle ashore in the dinghy to dine and view the ruins of the famous cathedral. Fortrose once had 26 bishops, each with their own house, and the evidence of much wealth abounds in the town. But its forte lies in Whiskey, which Esmonde is bound to test, and in Andersons of Fortrose we discover that they have more whisky and beer brands than any continental pub. We try most of them, but must surrender before we can finish the menu.
Wednesday 10th July 2013
0900hrs sail off the mooring and across the shallow sand bank on a rising tide towards Kessock suspension Bridge, where the calm northerly wind encourages me to hoist the spinnaker for a photo opportunity into the Beuly Firth. The grey skies challenge the photography, and the single handed sailing combined with a strong flood tide racing Sybil under the bridge, make this a challenging event. But it's worth it in the end, as the keeper of the Clachnaharry Sea Lock declares it as the most impressive entry into the Caledonian Canal that he has witnessed. After a brief meet up with the campervan in Muirtown, the Peter and Esmonde head for Inverness and the train to Glasgow, from which Esmonde will fly to Dublin. I take Sybil single handed on the return journey through Loch Ness, in much better weather than we had come out on. The northerly wind and sunshine pushed me along nicely, and I braved the hoisting of the spinnaker again – just for the cameras – as I pass Urquhart Castle. My photograph taking is disturbed by a speedy run into shallow waters while I attempt a gybe in the increasing wind. That dreaded moment finally arrives, when the wind is too strong to safely take the spinnaker down while single handed, but the wind is also too strong to keep the spinnaker up. But Fort Agustus loomed at the end of Loch Ness and I was running out of deep water, so down it came in a hurry.
Thursday 11th July 2013
0800hrs early departure from Fort Agustus to catch the first of the locks, there being 4 in this flight. Peter is late to rise is his cosy campervan, but arrives as Sybil is nearly through to help with the ropes. By 1800hrs Sybil has retraced her steps eastward to Gairlochy again, where the local liveaboards dispute with us over where our campervan is allowed to park. It seems the boaters resent caravaners overnighting on their quaysides or canal banks. We abandon Sybil and take to the campervan for the drive to Fort William. It's a break from onboard life for a while, now there is only Peter and Charles left in the campervan and sailboat crew.
Friday 12th July 2013
From Fort William we take the Harry Potter train – but the diesel one, not the steam one – to Mallaig, crossing over the same Glenfinnan aqueduct that Harry Potter did as he travelled to Hogwarths school in the movie. Mallaig is a small fishing village with a yacht marina, somewhat overcome by the tourists arriving on the Harry Potter train and having lost a lot of its fishing village charm. We return to Fort William and then overnight at Ballaculish Bridge near Glencoe in the campervan.
Saturday 13th July 2013
Early start on the road towards Ben Nevis, but Scotland's highest peak seems difficult to find and is not well signposted. Even the locals have difficulty directing us to the base camp, which we eventually find down a residential side street. My climb starts at 1100hrs in warm sunshine, and I tag along with others as I have no mountaineering experience and my trusted mountaineering guide Paul has long flown home. But it turns out there is a charity climb in progress today with 70 climbers of all abilities and experienced guides. It's quite a steep climb and many find it challenging, some turning back even before we get to the snow covered part. By 1400hrs I am at the summit in warm sun, and the rescue helicopter arrives to assist someone as most of us tuck into our packed lunches. There are unbelievable views all the way along, and especially from the top. I feel elated at having achieved the Ben Nevis summit on this Sybil trip, but disappointed that Paul could not have been here as he had conquered Snaefell on the Isle of Man with me en route here. The ascent can be as dangerous as the ascent, and we are all surprised to see climbers only starting to ascend as night falls and darkness and cold set in. We overnight in Fort William in the camper van, where the sea front provides great views and the "no camping" signs do not seem to reduce the number of campervans parked.
Sunday 14th July 2013
1100 depart by campervan for Gairlochy, to rejoin Sybil. By 1500hrs Sybil is through Garilochy Road bridge and loch and making good progress despite cooler stronger southerly winds. 1700hrs arrived at Banavie Neptunes Staircase but the lock keepers will not start the 8 lock descent at this late hour, so its an early night after dinner ashore.
Monday 15th July 2013
0800hrs and Sybil is first into the lock flight for the final descent to the sea. This is always a worrying moment, transiting from the safe calm canal into stormy seawaters. A strong southerly wind reminds me of the pressures of seafaring, and pushes Sybil beam on as the canal sluice forces her unflatteringly sideways out of Corpach lock and into the sea again. The unsettled waters allow for a hurried farewell to vanman Peter, and he returns the diesel can which we have been unable to refill. Its a motor sail against the wind from 1200hrs to 1900hrs to Tobermoray on the Isle of Mull, where I search out a visitors mooring. Unfortunately the first one I find is well submerged and hits the prop, but Sybil is good for hard work and glides onward without faltering. Its an uneasy night though with wind against tide causing Sybil to ride up against the metal mooring buoy, despite the rows of floating fenders I have laid out to protect her from hammering against it.
Sunday 16th July 2013
Its a late start as I lay in bunk reading. At 1400hrs I moor alongside Tobermoray jetty and loaded 35 litres of fuel for £45, and take up a marina berth for the night. With the benefit of showers provided as part of the marina, I run 4 miles along the coast and through the forest and lakeside. It is warm and sunny, and I am encouraged to run maybe farther than I should by a local ahead of me who seems to know the trail route. It turns out that Mull is quite a large island, with great forest trails that are longer than I expected, and hills that I might define more as mountains. Tobermoray itself is a sea front town hosting daily visitors from the mainland, and there are gift shops and eateries to mach this requirement. The multicoloured Victorian terraced houses on the seafront give this town a unique holiday feel. Back onboard, entertainment at dinnertime is provided by a 60ft luxury yacht moored alongside the marina, who cannot manage to get her electric reefing to unfurl their mainsail. It seems the sail will not be unfurled from inside the mast, without summoning a specialist who probably lives far away on the south coast of England. I am thankful that Sybil is small and low tech, making her simple to operate.
Wednesday 17th July 2013
0630 departure in blustery overcast weather is only to suit the tide, but also to try to make good headway to Barra Island in the Outer Hebrides some 50 miles out west. I am encouraged by a neighbouring yacht Loose Canon who are also heading for Barra, and then maybe to Skye. This is now the wide open Atlantic Ocean, and it is lumpy and grey to match its reputation. Arrival at Barra is signalled by the chartplotter but the island is shrouded in fog, with the sound of a throbbing diesel engine on an invisible boat following me along. Is it a slow fishing boat or a fast moving passenger ferry? Will it run me down before either of us get sight of each other? I am reminded of how far out into the deep Atlantic Ocean I really am. I nervously check the liferaft lashings again, and re-stock the emergency grab bag inside the companionway in case I have to abandon ship in a hurry. When the shoreline does appear at 1900hrs, there is little shelter near the airport where I want to land. I follow the passenger ferry and I tuck in behind the ferry pier to gain some shelter, regretting that I did not go to the recommended mooring at Castle Bay in the south. But North Bay proves to be a quiet and reliable anchorage for all my stay here. The ferry here is a small one, travelling only to Eriskay island to the north. The larger ferries arrive at Castle Bay to the south of the island. As the ferry berths up for the night, I row ashore and walk across the Barra Airport landing strip, which is the beach. In so doing, I achieve one of the final objectives of this cruise plan. Sybil is showing 550 miles covered so far, with the return journey south to Dublin now ready to start.
Thursday 18th July 2013
It's a remote and deserted location, as far into the Atlantic as I dare to go. So the 0200hrs high tide has me up with a torch to check the anchor remains holding as the tide turns. The result is that I wake late the following morning, to the sound of an airplane landing. Fearing I have come this far only to miss the airport spectacle, I hurry from bunk and row ashore, running to the airport some 2 miles away. There I learn that another plane is due at 1220hrs, so there is time for a breakfast in the airport canteen and shop. The customs officer watches from his table while a tractor on the beach runs a spreader across the sand to ready it for another landing. More spectators arrive, some having travelled from around the world to witness the beach landing spectacle. Soon it appears we will have more spectators than airline passengers. We all head out to watch the approach, and the small propeller driven plane from Glasgow lands easily on the sandy beach and taxis to the airport where the passengers disembark and stand back to take photos. The crew descend and pose for pictures, before joining us all in the cafe for a cup of tea. Soon it is time to take off, and then it is all over and the spectators return to their cars to ferry back to the mainland and the airport staff close up for another day. Suitably refreshed, I run the 8 mile roadway (trafficless except for occasional cars) across the island south to Castlebay, admiring the rugged independence of the remote households spread evenly across this far away island, and trying to imagine what life must be like in the cold and dark winters. Castlebay is sheltered with Vatersay island to the south providing safe mooring, and a large ferry from Oban brings much traffic to this part of the island. My friends on Loose Canon row ashore and tell of the struggle they had to find a vacant mooring buoy, with an unexpected number of visiting yachts arriving.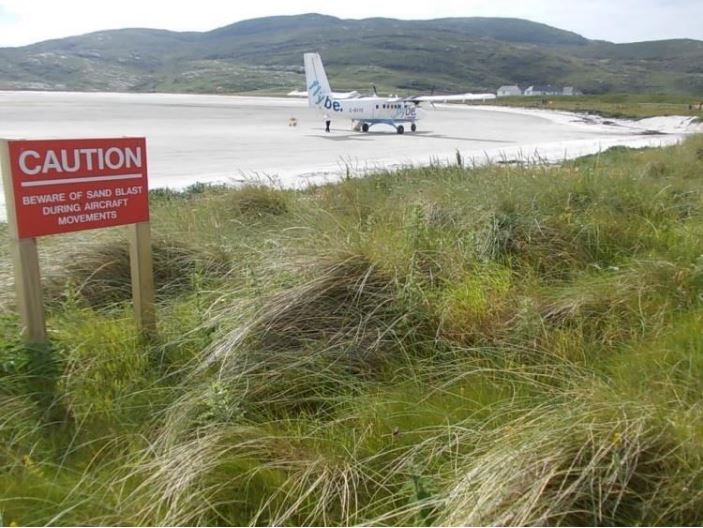 Friday 19th July 2013
0900hrs start, no wind and I wonder if I should dare to avail of the calm weather to extend my cruise northward to Eriskay and the remaining Shetland Islands. But I relent and thank my good fortune so far, and turn to head southward and homeward. A lot has been done, but there's still a lot more to do, to get Sybil home to Dublin. Visibility is poor and the island disappears swiftly from view. I hoist the spinnaker in a light northerly wind, but retrieve it to repair a hole (with superglue and black tape, I don't have a needle and thread) before re-hoisting again. By 1900hrs the log reads 43 miles covered today with Skerryvore abeam, marking that isolated rock off Tireee Island that was directly on my route south. It am relieved to see it in daylight, as it is a rather large isolated rock to come upon by night. I continue sailing overnight, which is easy as there is no shipping traffic about to look out for in this isolated part of the Atlantic Ocean.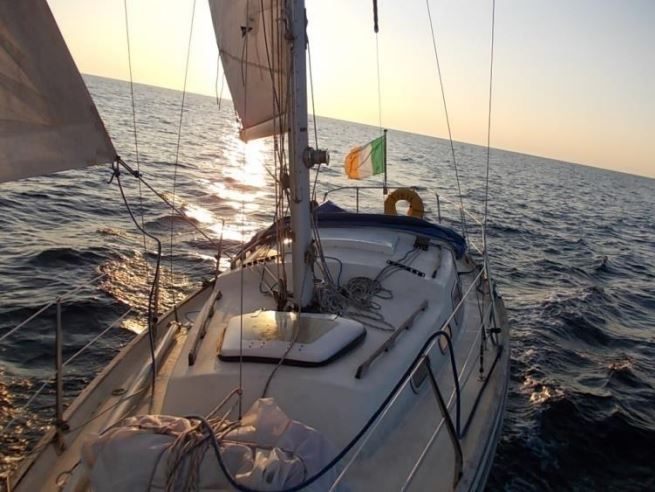 Saturday 20th July 2013
The wind shifts to the south and its a slow beat windward in grey overcast weather. I am closer to the island of Ireland and it is now possible to get a more accurate tidal calculation for entering the north channel, the narrow strip between Northern Ireland and Scotland. Here the tides run at up to 8 knots, so I must enter at 1500hrs to join the south going flood tide which will pull me into the Irish Sea. But I will arrive too soon at this pace, so it makes sense to alter course at 1200hrs to Rathlin for a good sleep, and maybe a change of wind direction, before heading southward again on the flood tide. By 1600hrs I am moored alongside Rathlin jetty, where major works are in progress to dredge for a new marina. However the existing harbour master and tourist guide has left the island to live elsewhere, and there is no replacement. So there is nobody to collect any marina charges. After a cold but welcome shower, all I want is some food and a good sleep. Alas, the award winning restaurant, to which people used to travel from the mainland, has closed this year. The Rathlin Manor House was housed in a historic building which had been refurbished with funds provided by Virgin founder Richard Branson, in thanks for his rescue by the islanders when his transatlantic hot air balloon venture ended its journey here in 1987. It was here also that Marconi had established the worlds first commercial wirelesss link, from Rathlin Island to the mainland in 1898. Todays technology will allow me to make a mobile phone call, it does not allow the pizza delivery on the mainland people to bring me dinner. So its a burger and chips from the simple but dependable Emmas chipper, the same as last year.
Sunday 21st July 2013
Sunday is clearly not a day of rest here as the nearby dredger starts its noisy work early. So I take to the shore and run 2.5miles south to the lighthouse, which looks out across the channel to Northern Ireland. The ruins of lighthouse keepers houses and a primitive jetty show signs of settlements from years gone by, when this was the jumping off point and the shortest route to get to the mainland. But it is very exposed and I retreat, as generations had before me, to the more sheltered Church Bay which is now the main settlement on Rathlin. For nourishment to get me on my way, I ordered a "Bay Burger" in Mc Cuigs bar, but I am disappointed to be served nothing but a dry burger in dry bun. Salad, onions, tomatoes or even chips are not provided. I don't dare ask for ketchup. By 1500hrs I am ready to depart the island. Fortunately it appears that the dredger has woken up the paddle wheel on Sybils hull and the log is working again. An easterly wind forces me to motor round Bloody Foreland and southward, and I struggle to keep pace with the south going tide. But soon the tide starts ebbing northward again so I need to anchor somewhere until 0600hrs. The ICC directions show images for Ballyhome bay as a suitable anchorage, which I had not considered before as it is so near Bangor with its large marina. I arrive in the dark at 2300hrs to find a fully illuminated sail training ship already at anchor in the bay, so I declare the anchorage fit for purpose and motor gently inside her to anchor off Ballyhome Yacht Club. Feeling a little vulnerable in Belfast Lough, I hoist for the first time Sybils new low energy LED anchor light, but it turns out to be more of a glaring floodlight that an anchor light so that I must switch it off in order to get any sleep.
Monday 22nd July 2013
After a rolly night on the anchor, I wake late. A tender from Ballyhome Yacht Club comes alongside to check I am okay and offer any assistance, a proactive welcome for visitors that I have not experienced in a yacht club for many years now. I avail of their assistance to retrieve the tripping line off the anchor, which had become very entangled when the tide turned overnight. As a single hander, this would be difficult to unravel, and I feared it might have looped the propeller itself which could require a little diving. So their assistance was much appreciated, and in the end the line had only looped around Sybils skeg. I motor to Bangor Marina at 1200hrs for more fuel, having spent the entire previous day motoring. Their friendly staff catch my ropes and top me up with 20 litres for £22 sterling, before I notice I may have jumped the queue on a French boat waiting nearby. I feel guilty, but maybe single handed sailors are allowed to do this. My rough calculations indicate that Sybil uses approximately 0.5 gallons per hour or 2 litres per hour, although its a little late in the cruise to be calculating fuel usage. my 1400hrs departure is in very hot sunny and calm weather. I motor east out of the Belfast Lough, passing the Maidens and what the chartplotter describes as an "exposed wreck". It must not have been very exposed, as I was unable to see it even at low tide. I continue to be wary of electronic charts. The tidal flow southward begins 1800hrs, which is good because the wind has died down and I need to avail of any propulsion southward that I can get. South Rock lighthouse is abeam at 1900hrs, an isolated rock best passed whilst daylight remains, and also the last point before I can head south west towards Dublin. I try to deduce where the flood tide changes from being southerly (around the northern coast) to being northerly (around the south coast). The point in the middle of this filling system should be half way up the Irish Sea, somewhere around the Isle of Man. Despite having so much time on my hands, I don't reach any conclusion on this as I motor southward overnight, in calm but misty weather. The mist creates a challenge around Dundalk, where much shipping is entering and departing the bay. Huge unstoppable steel hulks speeding along through the mist, probably under auto pilot. I can only keep a good watch and hope my radar reflector makes Sybil visible to them. But even if they see me, I don't believe they would be able to stop on time. I check those liferaft lashings again, and prepare the "grab bag". Just in case I have to leave in a hurry.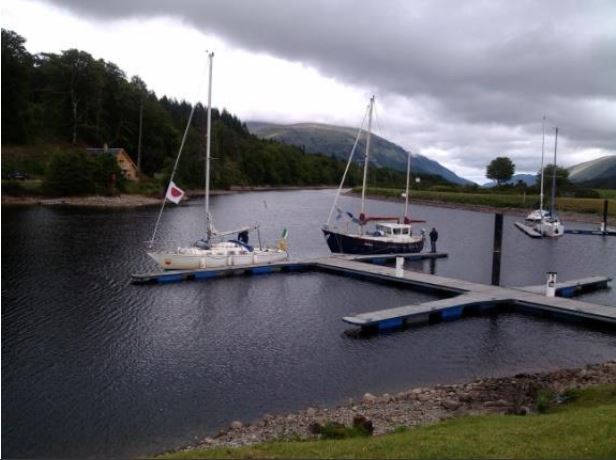 Tuesday 23rd July 2013
The mist lingers, and by 1200hrs I have the Baily Lighthouse of Howth abeam, but I am much further south than anticipated. Still, its better to be farther offshore rather than too close in poor visibility. Dublin Bay is calm as she welcomes home Sybil, and she is back on her mooring in Dunlaoghaire by 1500hrs. The electronic log continues to have a mind of its own so it is not possible to accurately see how far Sybil has travelled on this cruise. It seems though that this sturdy Shipman has put at least another 800 miles under her keel this five week cruise, in fair weather and foul, on sea and loch and canal, under sail and motor. And Sybil has achieved the goal of getting to Scotland's remote Outer Hebrides and to the infamous North Sea. Whether it was her first time there or not we will never know, for of her early years we know nothing. Although she bravely bears the marks of her 30 years of travels, she guards her history closely. If only boats could talk!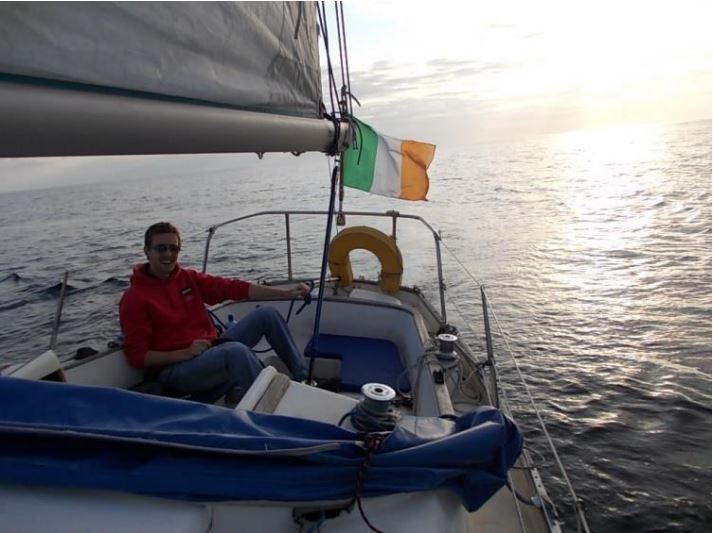 TRAVEL GUIDE

Isle of Man Steam Packet Company ferries daily from Dublin to Douglas

Scottish Canals looks after the Crinan and Caledonian Canals and Loch Ness.

The Great Glen Way walking route follows the Caledonian Canal. Dublin to Glasgow airport flights depart daily. Trains daily from Glasgow to Inverness or Fort William at either end of the Caledonian.

Caledonian Macbrayne operate car ferries to Scotlands Outer Hebrides Island.

Rathlin Island ferries daily from Ballycastle Antrim.

Charles Dunn 2013